October 19, 2017
Mallard Island Yacht Club Wedding
Mallard Island Yacht Club Wedding
While Summer may be over, we're here admiring these Mallard Island Yacht club wedding photos from Jill and Kris' big day! Jillian wore a beautiful, form fitting Anna Maier wedding gown and some GORGEOUS Manolo Blahnik sparkly heels! Her bridesmaids stood by her side in blush pink, Amsale Dresses that fit each bridesmaid perfectly. The weather this day was stunning and we got some amazing photos around the property of Mallard Island. Kris was blown away by his beautiful bride at their first look and the chemistry between these two love birds is amazing. The ceremony was sweet as friends and family gathered in the boat house to witness their "I do's". The rest of the evening was smooth sailing thanks to some amazing entertainment by Hank Land Band and some guests who could not stop dancing!
Congratulations Jillian and Kris, it was a JOY being a part of your big day!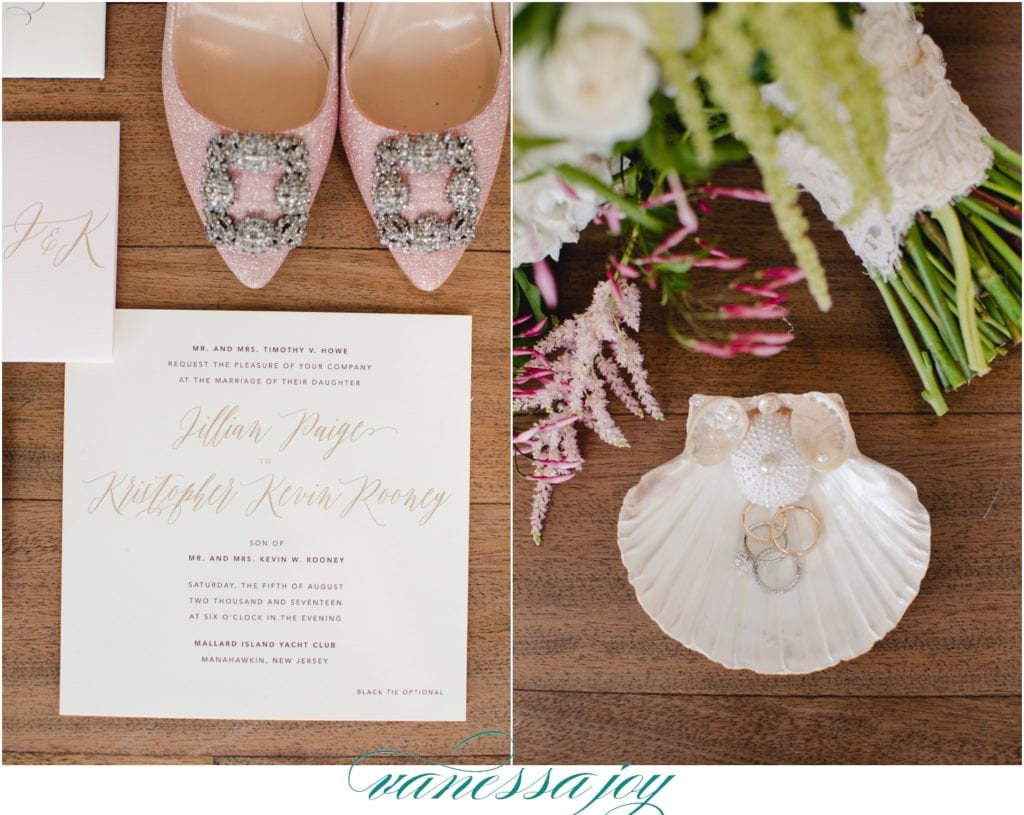 We (scandalously) met at work! I had seen Kris around the office and thought he was cute but we didn't officially meet until a mutual friend's birthday party. He IM'd me the following week on our company's messenger and asked me out on our first date where he sweetly planned a picnic in Central Park….The rest is history! Kris eventually got a new job at a different firm but it's funny thinking back to our secret midday coffee dates!
We were set on having an elegant affair in a relaxed setting and Mallard Island Yacht Club was exactly what we were looking for. The venue is breathtakingly beautiful and elegant, and combined with the relaxed vibe of being on the water on Barnegat Bay, it surpassed all of our wildest dreams. We are both beach-lovers and we wanted a venue where we could enjoy the summertime outdoors, so we were ecstatic that we were able to get married in a gorgeous chapel surrounded by water and that the glass doors around the dance floor opened up so the guests felt like they were dancing outside on the water. If you've found yourself inspired by their wedding and would like your own yacht wedding you can check out these
super yachts
and start planning!
The entire weekend was an absolute perfect fairytale that I keep reliving in my mind over and over again. There are so many magical moments from that day that I will never forget. One of my favorite moments was when our band leader announced us into the reception. I'll never forget the overflowing amount of love, support and happiness I felt from every single person in that room. I vividly remember thinking I couldn't imagine ever being happier than that moment – walking in with my amazing new husband, hearing our names announced as a married couple for the first time, and the genuine joy that was projecting from all of our family and friends. I will relive that moment forever!
My wedding was so special to me because it was truly a celebration of our love for one another. What made the wedding weekend even more extraordinary was the special bond we have with our friends and family. I will tell my children that there is nothing more wonderful and meaningful than to have found your forever best friend and partner, and if you're lucky enough to have close people in your life who feel that joy along with you, that makes it all the more wonderful and magical!